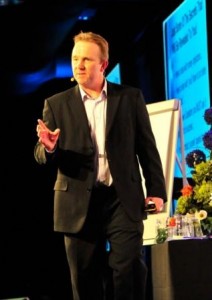 "Discover How to Give Your Property Profits a Dose of Steroids!"

Simon Hazeldine our speaker for April 26th has agreed to share with us some of his knowledge.
In Property You Don"t Get What You Deserve – You Get What You Negotiate…
If You Can"t Negotiate Effectively You Will Get Exploited By Those Who Can!
Sharpen Your Negotiation Skills and Get More of What You Want!

"Simon Hazeldine's Bare Knuckle Negotiating" contains powerful, practical and solid advice." Duncan Bannatyne From BBC TV"s "Dragon"s Den

Simon Hazeldine will take you on an action packed journey through the negotiation process and along the way you will learn:
A tried, tested and proven negotiating process

The essential "LIM" model for Getting What You Want

The 2 main negotiating styles and when to use them

How to deal with Power Ploys

What you must do immediately after the negotiation has finished…

How to guard yourself against Sneaky Negotiating Tricks and Dirty Tactics!

How to give a little and Gain a Lot!

The Magic Negotiation Formula that guarantees you a great deal…

How to Motivate the other party to deliver their end of the bargain

Why you should never meet me halfway 
Simon Hazeldine works internationally as a professional speaker, and consultant in the areas of Sales, Negotiation and Business Performance.
He has spoken at conferences across five continents and recently spoke alongside Lord Alan Sugar at the UKs biggest property conference.
His client list includes some of the world"s most successful organisations including: Avon Cosmetics, Carphone Warehouse, Dell Computers, Lexmark, London Business School, Nestle, Skype, Thomas Cook, Time Warner and Vodafone.
Simon has a Masters Degree in Psychology and is the bestselling author of four books that have been endorsed by business leaders including Duncan Bannatyne from "Dragon"s Den" and billionaire business legend Michael Dell.
Prior to his current career he worked as a bouncer and provided event security and personal protection services to celebrities in the television and music industries.
Simon Hazeldine is the Bestselling Author of:
"Bare Knuckle Selling"
"Bare Knuckle Negotiating"
"Bare Knuckle Customer Service"
"The Inner Winner"