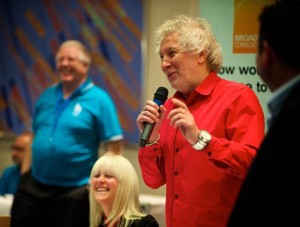 Life has certainly been varied for the man who left school without any qualifications. Richard Wilkins's multi–faceted career began with training in plastering. It was not what he liked or wanted, partly because he despised the rip–off tactics he found in the trade.
He set up his own business in property development. Hard work earned him a mansion in Northamptonshire, with land that included the village green, and all the trappings of a wealthy lifestyle. He was in his thirties and was intending to retire at 40.
Richard had the Ferrari's, a fleet of Lamborghini's a Millionaire's home

Richard was self made – his fortune was made through property and property development

He had just secured planning to build his own golf course in the grounds of his country manor

Richard's life then turned upside down – a divorce and interest rates at 16% !!

You will be blown away from Richard's approach to how to get take action  & get results
He had, however, borrowed heavily. When his wife left him he needed more borrowing, but the 1980s recession was biting and the bank called an abrupt halt. When the demand for repayment came Wilkins could not find the money and he became bankrupt.
At rock bottom and living in a bedsit, he worked for a while in a hospice. Then he borrowed £3,000 and produced his first book, a collection of sayings called Ten Out of Ten – The Yellow Book. It was the first of several, selling first in souvenir boutiques and later in mainstream bookshops.
The books supported him until he was asked to speak publicly.
His inspirational addresses became his full–time occupation and he promotes his ideas on a catchily named website, www.theministryofinspiration.com. He now refers to himself as "an ex–millionaire who became a happy person."
In keeping with our passion at the Bucks Property Meet of  securing first class speakers we have again secured another FIRST and secured a top performer to share some unbelievable content with us. The Bucks Property Meet has a reputations of having very active property people who are willing to share their knowledge with the Bucks community.
Property networking is all about making new contacts, sharing new ideas, learning, being motivated to take action and being able to spend time with others who share a common passion.