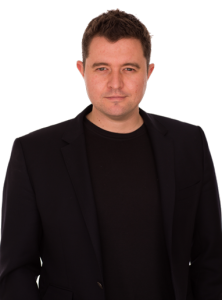 Daniel Priestley.
Successful Entrepreneur, International Speaker and Best-Selling Author.
Daniel-Priestly-Alena-MP-Studios-Tampa-12044
Daniel started out as an entrepreneur at age 21 and built a multi-million dollar event marketing and management business before age 25. He has since built several successful businesses in the UK, Australia and Singapore.
Daniel has bought, sold and turned around businesses in his career as an entrepreneur. He has raised money and built businesses in multiple countries. He's fortunate to be mentored by Mike Harris who has built three iconic, multi-billion pound businesses. Daniel has raised hundreds of thousands of pounds for charity and served on the board for several organisations.
In 2010, Daniel co-founded Entrevo, an entrepreneur growth accelerator designed to assist "key people of influence" to become more visible, valuable and connected.
Each year in cities around the world, entrepreneurs, business owners and leaders go through this 9 month growth process. The program has attracted the support of highly celebrated business leaders, investors and large companies.
Don't Miss Out
We've worked with entrepreneurs,business owners and leaders across 50+ industries to improve the following 5 areas:
Pitch 
- Perfecting the way you "Pitch" yourself
Publish – Writing blogs, articles or even a book about your area of expertise
Products – Developing a new product or training program that spreads your core value
Raise Your Profile – Helping you become the go to person in your industry

Partnerships – Creating profitable and expansive Joint Ventures with others.
Daniel has a passion for "Global Small Business" and has been sharing the concept of an "Entrepreneur Revolution" since 2007. His belief is that an Entrepreneur Revolution is unfolding, whereby talented people are choosing entrepreneurship over traditional employment.
Daniel Priestley was featured in the Book "Secrets of My Success" along side some of the worlds most well known entrepreneurs. He's also the best-selling author of the book "Key Person of Influence" and "Entrepreneur Revolution".
Daniel Priestley gives talks on:
Becoming A "Key Person Of Influence" – The 5 strengths of hyper resourceful people.
The Entrepreneur Journey – Struggle, Lifestyle, Performance.
Currently Daniel is involved in the following charities:
Peace One Day
The Hunger Project